DISORDER PROGRAM / SCHEDULE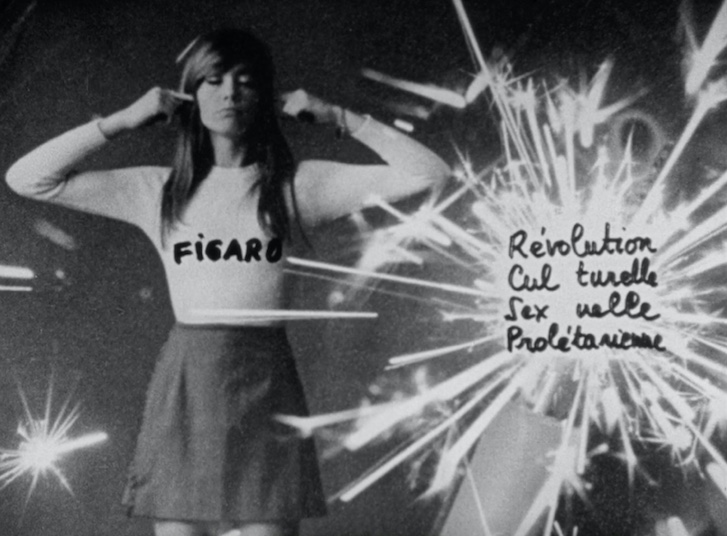 HUSETS BIOGRAF
Rådhusstræde 13,
1466 København
huset-kbh.dk

___________________________________________________________________
___________________________________________________________________
THURSDAY 12/04
18:00 — Café area opens
19:00 — Prehistory of May
The « Spirit of May » can be traced back as far as the '40s with the post-war generation shaking things up and in numerous movies expressing the urge for change. This first program contains various examples of these initial stirrings of unrest and is completed by an exceptional documentary made by Alain Tanner for Swiss television, interviewing activists and studying the growth of the contestation which led to huge demonstrations and violent clashes in the streets of Paris.
DÉSORDRE / Jacques Baratier (1948, 16mm, b&w, 18 min.)
LA MORT DU RAT / Pascal Aubier (1973, 16mm, b&w, 7 min.)
UN MISANTHROPE / Gérard Pirès (1966, 35mm, b&w, 5 min.)
GIRAGLIA / Thierry Vincens (1968, 35mm, colour, 5 min.30)
PORTRAIT ÉLECTRO-MACHIN CHOSE / Martial Raysse (1967, video, b&w, 9 min.)
LE POUVOIR DANS LA RUE / Alain Tanner (Swiss, 1968, 16mm > digital, b&w, 48 min.)
(93 min. total)
___________________________________________________________________
THURSDAY 12/04 — 21:00
Back on the Barricades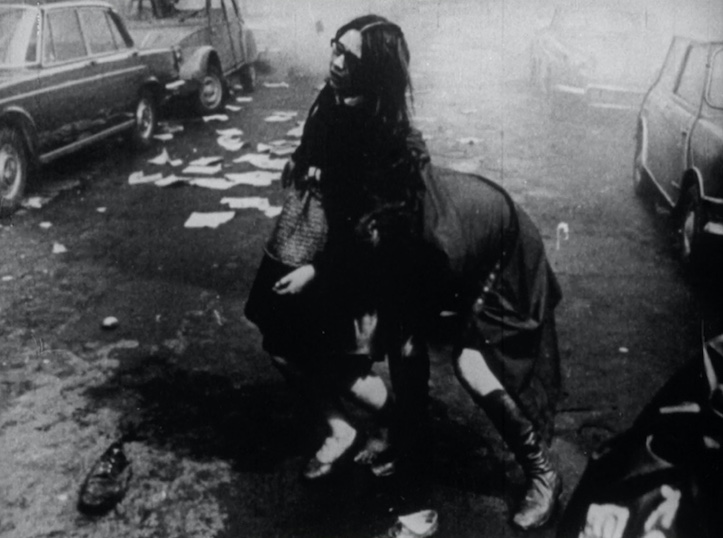 Hiroshima? No, Paris, May '68. From a Cinétract, a picture from an unknown photographer showing the violence of the police assaults on the civilian, suffocating from CB and CZ tear gas - the same used by the US Army in Vietnam...
Many films about the riots in Paris's Latin Quarter in May '68 were shot independently with improvised resources by film makers and students and serve as a counterpoint to the more official newsreels which also covered the riots. They provide striking insights into the events and deliver radical political commentary. Here is but a small selection of those rare agitprop tracts, shown for the first time with English subtitles.
CINÉ-TRACTS / Anonymous-collective (1968, 16mm > digital, b&w, various durations)
LE JOLI MOIS DE MAI / Jean-Denis Bonan (1968, 16mm > digital, b&w, 33 min.)
LA SOCIÉTÉ EST UNE FLEUR CARNIVORE / Collective (1968, 16mm > digital, b&w, 26 min.)
QUE S'EST-IL PASSÉ EN MAI ? / Jean-Paul Savignac (1968, 16mm > digital, b&w, 17 min.)
(80 min. approx.)
___________________________________________________________________
FRIDAY 13/04
18:00 — Café area opens
19:00 — Sous tes reins (the French Underground)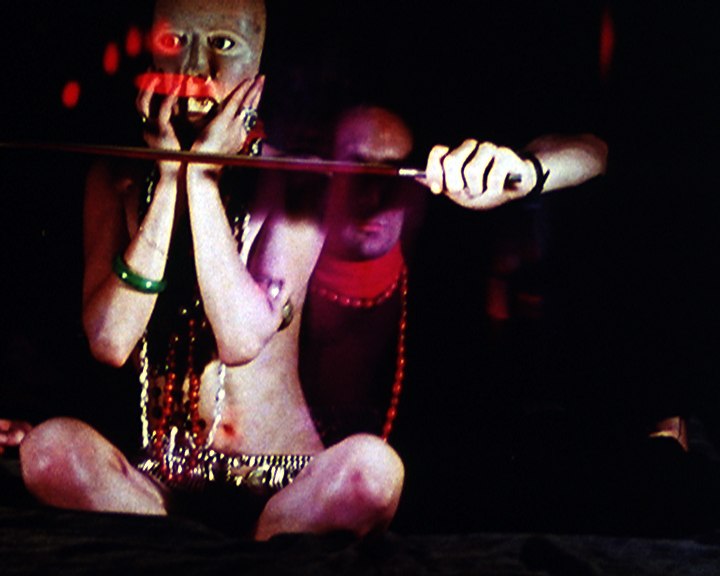 Visa de Censure by Pierre Clementi
« Ephemeral and flamboyant, linked to the psychedelic revolution and the hippie generation, French underground cinema loomed in counter-cultural turmoil, foreshadowing and preparing for the upheaval of May '68. A cinema of protest, of provocation, of refusal. A cinema of agitprop and poetry. It was a playful time of happenings and situationist appropriations. We wanted to abolish the boundaries between life and art. Everybody's a film maker! We aimed to make films in total autonomy and freedom. With no aesthetic criteria, no moral taboos and no commercial ambition. » (Jean-Pierre Bouyxou)
Special guest: Jean-Pierre Bouyxou
UNE ŒUVRE / Maurice Lemaitre (1968, 16mm, colour, 15 min.)
CHROMO SUD / Etienne O'Leary (1968, 16mm, colour, 21 min.)
LE SEXE ENRAGÉ / Roland Lethem (Belgium, 1968, 16mm, colour, 20 min.)
SATAN BOUCHE UN COIN / Jean-Pierre Bouyxou & Raphaël-G. Marongiu (1968, 16mm > digital, colour, 12 min.)
VISA DE CENSURE X / Pierre Clémenti (1967-75, 16mm, colour, 43 min.)
(111 min. total)
___________________________________________________________________
FRIDAY 13/04 — 21:00
Midi-Minuit (art house of horror)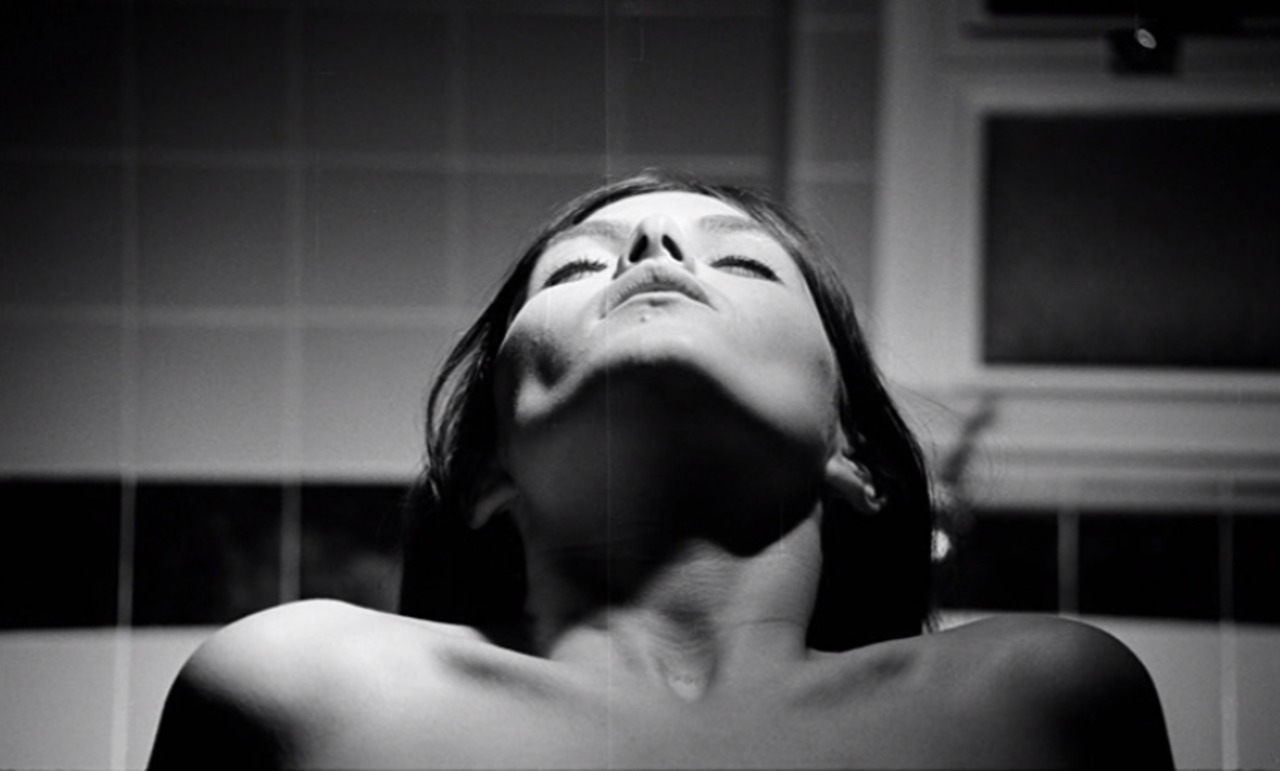 LE VIOL DU VAMPIRE
(The Rape of the Vampire)
Jean Rollin
(1968, 35mm > digital, b&w, 95 min.)
With Bernard Letrou, Jean-Loup Philippe, Jacqueline Sieger, Solange Pradel
Music by François Tusques and Yves Géraud
Four sisters who believe they are 200-year-old vampires dwell in a derelict manor house in the French countryside. A psychiatrist ventures into this supernatural setting and tries to convince them they have been misled by ancestral beliefs, but his attempts are foiled by angry, superstitious villagers and by the actual existence of a vampire queen. This first feature film by Jean Rollin is not a conventional horror movie- it is more of a poetic homage to literary gothic tradition and to serials. It also lurks in the shadow of Grand Guignol and acknowledges the inspiration of Georges Franju. As one of the very few films released during the events of May '68, it received poor critical and public attention at the time, but later gained a cult following for its unique dreamlike atmosphere.
Special guest: Jean-Pierre Bouyxou
___________________________________________________________________
SATURDAY 14/04
18:00 — Café area opens
19:00 — Libertarian Uproar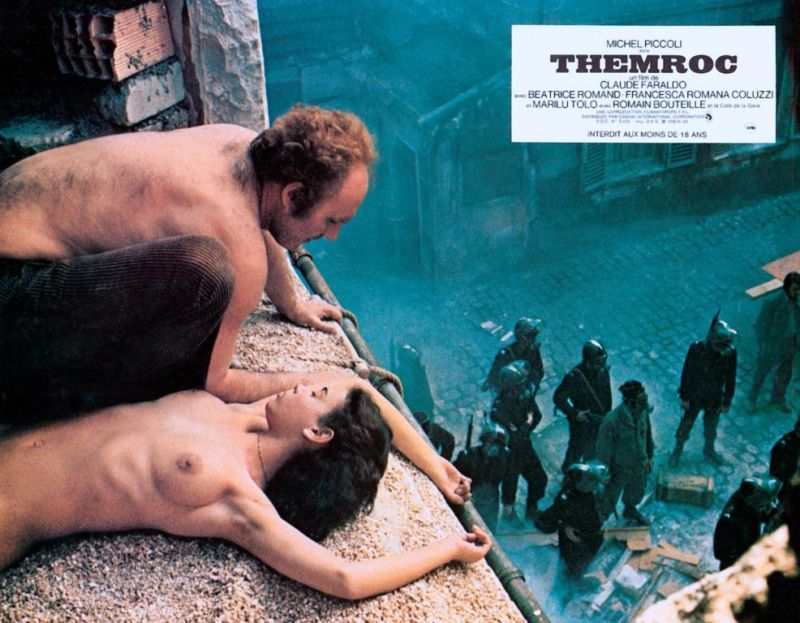 THEMROC
Claude Faraldo
(1973, 35mm > digital, colour, 109 min, original grunts version)
With Michel Piccoli, Romain Bouteille, Coluche, Patrick Dewaere, Miou-Miou, Popeck...
Themroc is a painter and decorator living an absurd life. He rebels against his condition by transforming his flat into a den. He lives half naked, lays with his sister, spends his days copulating and sleeping, and hunts riot police for barbecues… The neighbours begin to follow his example. A riotous libertarian satire, devoid of articulated language, Faraldo's movie is typical of the post-68 anti-establishment production.
___________________________________________________________________
SATURDAY 14/04 — 21:00
Power to the imaginary

Jean-Baptiste Thiérée in Piège
PIÈGE
(Trap)
Jacques Baratier
(1968, 16mm, b&w, 50 min.)
With Bernadette Lafont, Bulle Ogier, Jean-Baptiste Thiérée, Fernando Arrabal
Music by François Tusques
Lured into a labyrinth-like house that has been scattered with absurd traps by a strange proprietor frightened of being robbed, two young female delinquents cause total mayhem. In this filmic hallucination inspired by automatic writing, Baratier expresses his anarchist tendencies via lurching phantasmic sequences in a chaos of pictures and sounds. A mix of surrealism and punk attitude reminiscent of Vera Chytilova's 1966 film Daisies.
+

Elina Löwensohn & Nathalie Richard in Notre Dame des Hormones
HORMONA
Three carnal films by Bertrand Mandico
(2013-15, 16mm > digital, colour, 49 min.)
PREHISTORIC CABARET (2013, 10 min.)
Y A T'IL UNE VIERGE ENCORE VIVANTE? (2015, 9 min.)
NOTRE DAME DES HORMONES (2014, 30 min.)
Within this protean program featuring Elina Löwensohn, the chameleon muse of the director, we are served a freaky visual cocktail celebrating the alchemical wedding of Méliès, Cocteau and Cronenberg within a giallo-genre lysergic setting. Mandico transcends his multiple B-movie influences in the light of his own obsessions, mixing the organic with the plant kingdom in lurid 16mm images fashioned with home-made special effects. A baroque nightmare, bizarre and funny.
In presence of Bertrand Mandico & Elina Löwensohn
___________________________________________________________________
SUNDAY 15/04
14:00 — Café area opens
15:00 — All tomorrow's riots
PAUL
Diourka Medveczky
(1969, 35mm, > digital, b&w, 90 min.)
With Jean-Pierre Léaud, Bernadette Lafont, Jean-Pierre Kalfon.
Paul escapes from his bourgeois family and hits the road. While staying a short time with his drug-addict cousin, he meets a community of hermits who are fleeing society. When their guru betrays the rules, the group disbands in violence. Beautifully shot in the remote landscape of Cévennes with emblematic actors of the French new wave, Medveczky's last movie is a disillusioned road trip about the lost aspirations of the '68 generation.

— All the films are in French with English subtitles

CINEMATEKET
Gothersgade 55,
1123 København
dfi.dk
___________________________________________________________________
___________________________________________________________________
SUNDAY 15/04 — 19:00
SUNDAY 29/04 — 16:45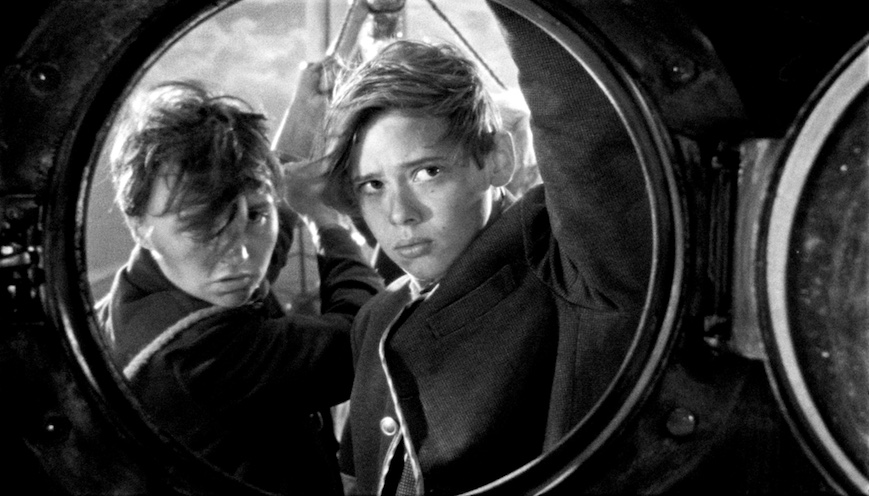 LES GARÇONS SAUVAGES
(The Wild Boys)
Bertrand Mandico
France, 2017, DCP, B&W/Colour, 1h50, French w/Eng Subs
With Pauline Lorillard, Vimala Pons, Diane Rouxel, Anaël Snoek, Mathilde Warnier, Sam Louwyck, Elina Lowensohn, Nathalie Richard
In the early 20th century, five young boys from good families commit an atrocious crime. They are condemned to a reformatory voyage under the authority of the Capitaine. After a mutiny, they become shipwrecked on a strange and luxuriant island. Left alone to their savage instincts, they endure a terrifying but liberating experience. Shot in Super-16mm with in-camera special effects, this orgasmic rite of a radical initiation under the mixed influence of William S. Burroughs and Jules Verne and drawing on the flamboyant aesthetics of camp, is the first feature film of a most talented contemporary French director, multi-awarded in numerous international festivals.
In presence of Bertrand Mandico & Elina Löwensohn.
___________________________________________________________________
TUESDAY 17/04 — 19:00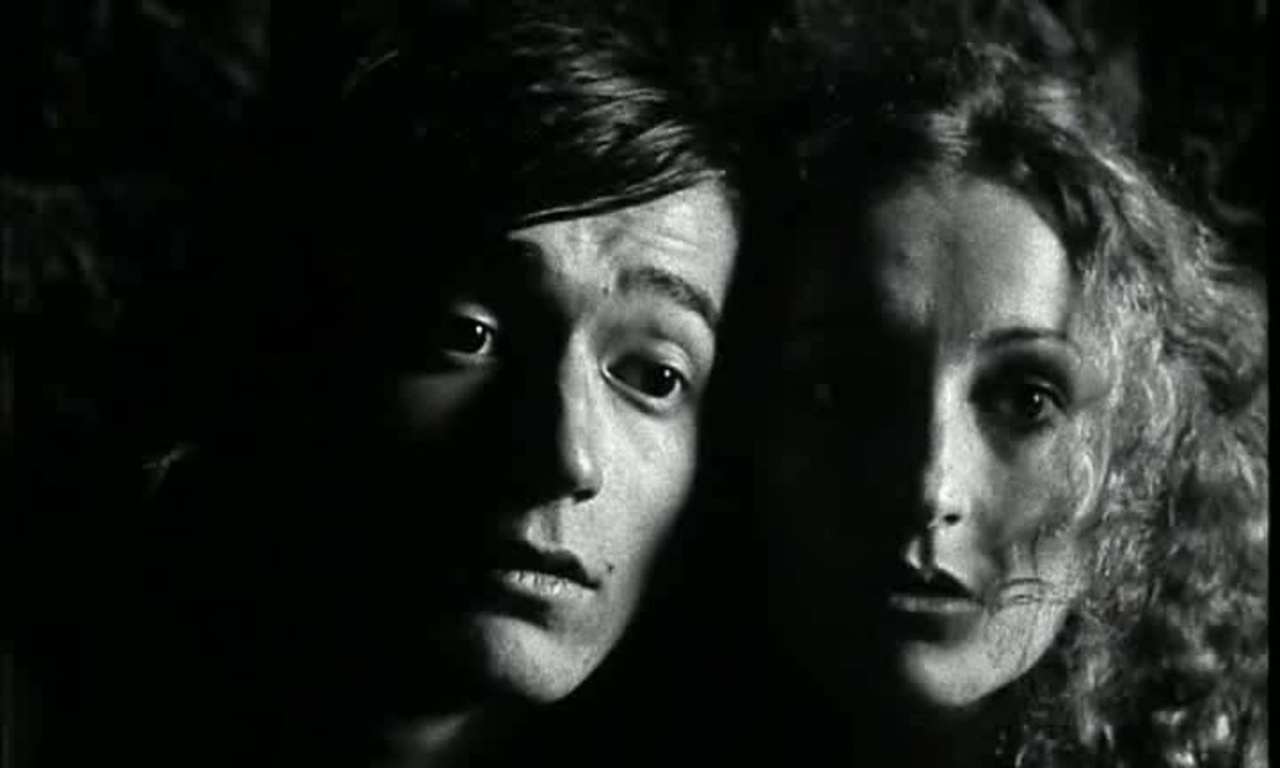 Laurent Condominas & Jackie Raynal in Acéphale
ACÉPHALE
Patrick Deval
France, 1968, 35mm, B&W, 56 min., French w/Eng Subs
With Laurent Condominas, Jacky Raynal, Michael Chapman, Patrick Deval, Jacques Baratier, Christian Ledoux, Edouard Niermans, Eve Ridoux, Audrey Vipond
ACÉPHALE («Headless») belongs to a set of films made in total freedom around 1968 by an ephemeral community of young artists retrospectively known as «Zanzibar Group» (amongst them Philippe Garrel, Jackie Raynal, Daniel Pommereulle, Serge Bard, Olivier Mosset…), produced by impartial maecenas Sylvina Boissonnas and made with professional technical means. Shot in June '68 under the influence of LSD and within the singular setting of the Parisian wastelands. This utopian meander, a collage of surreal scenes, is a sort of « dark psychedelic » film, with references to the writer Georges Bataille in its quest for «a new delirium» and «forever-lasting trips».
In presence of the director Patrick Deval.
___________________________________________________________________
WEDNESDAY 18/04 — 19:15
Psych-out! Double-bill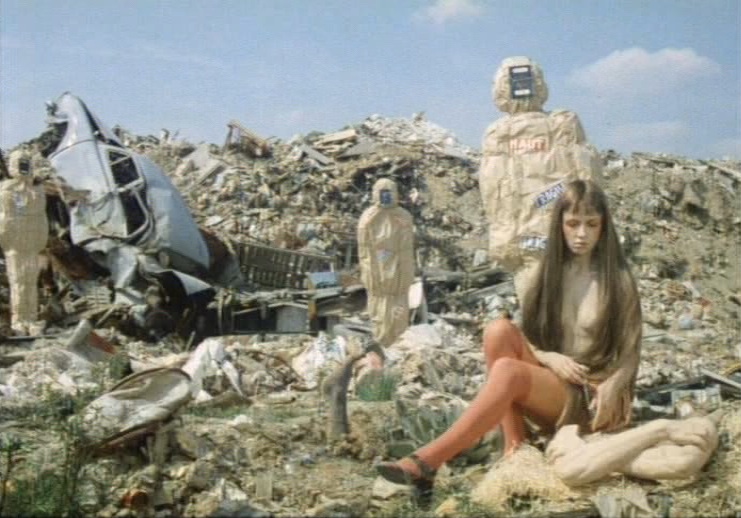 Juliet Berto in Je Tu Elles
JE, TU, ELLES
(I, You, She)
Peter Foldes
France, 1969-72, 16mm > Digital, colour, 1H19, French w/Eng subs
Music by Robert Cohen-Solal and Bernard Parmegiani with Daevid Allen & Gong.
With Denise Glaser, Francis Blanche, Jacqueline Coué, Anémone, Bernadette Lafont, Juliet Berto, Margareth Clémenti
A whimsical art gallery director, interviewed by a famous TV reporter, tells the story of Valery, a painter he promoted and who vanished in his own fantasies. Produced by Le Service de la Recherche for the ORTF (French TV), this rare psychedelic gem is a veritable playground for Peter Foldes, a Hungarian-born multi-disciplinary artist, famous for having accomplished one of the first figurative CGI animations films: the multi awarded HUNGER (1973). With his unique feature-film, Foldes unleashes his crazy imagination through symbolic situations and flashbacks, cumulating real acting, animation and video effects with extraordinary virtuosity. A delirious fresco mixing pop art and inner trips with caustic humour, complete with a soundtrack that will delight connoisseurs of musical experimentations.
(Also screening on FRIDAY 27/04 — 21:30)
+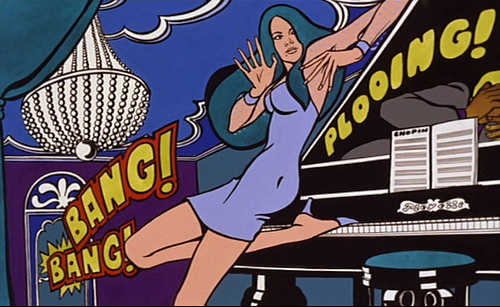 An illustration by Guy Pellaert for Jeu de Massacre
JEU DE MASSACRE
(The Killing Game)
Alain Jessua
France, 1967, 35mm, colour, 1h34, French w/Danish subs
Avec Jean-Pierre Cassel, Michel Duchaussoy, Claudine Auger
Bob Neuman, a rich, mythomaniac heir, invites Pierre Meyrand, a comic strip author he admires, accompanied by his wife Jacqueline into his Swiss home. The artist uses the occasion to create a new character inspired by the host, who in return decides to experience in real life the scenarios of his guest, prompting a succession of chaotic events in the quiet bourgeois setting.
The movie owes a lot to Guy Pellaert, the creator of Pravda La Survireuse, instant Pop heroine of the emancipatory movements in the late '60s. His colourful illustrations perfectly integrate the story, as visual punctuations and intermediary spaces between reality and dream life.
___________________________________________________________________
THURSDAY 19/04 — 20:30
TUESDAY 24/04 — 21:30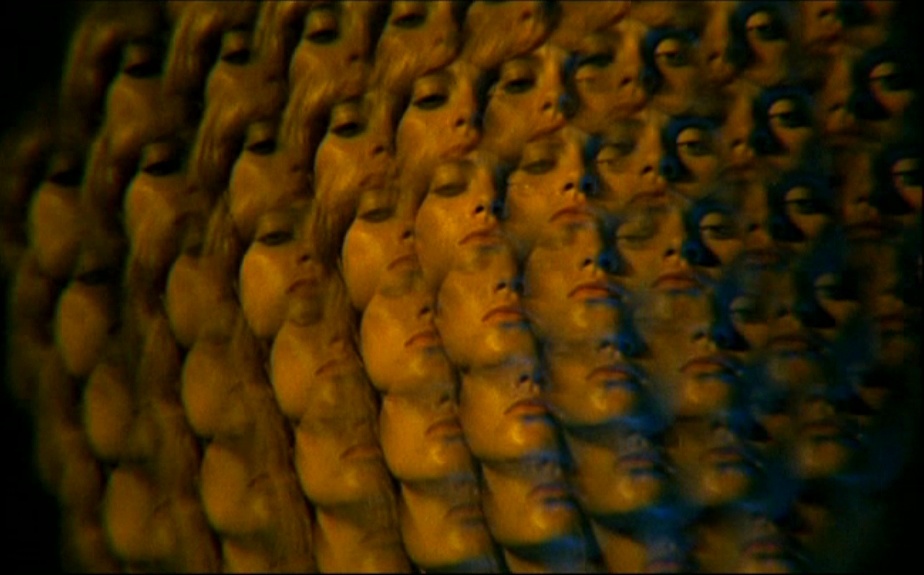 Elisabeth Wiener in La Prisonnière
LA PRISONNIÈRE
(Woman in Chains)
Henri-Georges Clouzot
France, 1968, 35mm, colour, 1h50, French w/Danish subs.
With Elisabeth Wiener, Laurent Terzieff, Bernard Fresson, Dany Carrell, Dario Moreno
Shot during May '68, the very last film (and the only one in colour) by Clouzot gives him the opportunity to follow up the formal experimentations initiated four years earlier for his ambitious and unachieved project, L'ENFER («Hell»). This controversial story, a love triangle based on sadomasochistic passion that takes place within the contemporary art world, allows the obsessive director to consume his actors in a complex display of mirrors through kinetic apparatus (using artworks by Vasarely, Schoffer, Le Parc...) and to compose fascinating chromatic images.
___________________________________________________________________
FRIDAY 20/04 — 19:00
WEDNESDAY 02/05 — 16:45
Carte blanche for the Cinémathèque de Toulouse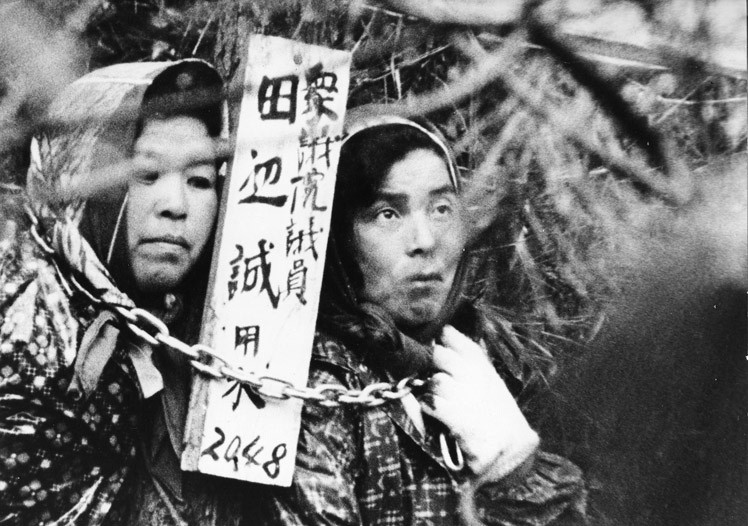 KASHIMA PARADISE
Yann Le Masson & Benie Deswarte
1973, 35mm, B&W, 1h46, French & Japanese w/Danish subs.
A milestone in militant cinema, KASHIMA PARADISE scrutinizes the ratios of power which bring into harsh opposition Japanese farmers and industrial trusts in Kashima and Narita, site of a ten-year long conflict against expropriations and the building of an airport. This depiction of a nation in the early '70s, by an exceptional cameraman, Yann Le Masson, and a brilliant sociologist, Benie Deswarte, witnesses the raging of the world like never before in direct cinema. An essential documentary, enhanced by commentary written by Chris Marker.
In presence of Francesca Bozzano,
associate director of the film collection at the Cinémathèque de Toulouse.
___________________________________________________________________
SATURDAY 21/04 — 14:15
THURSDAY 26/04 — 20:00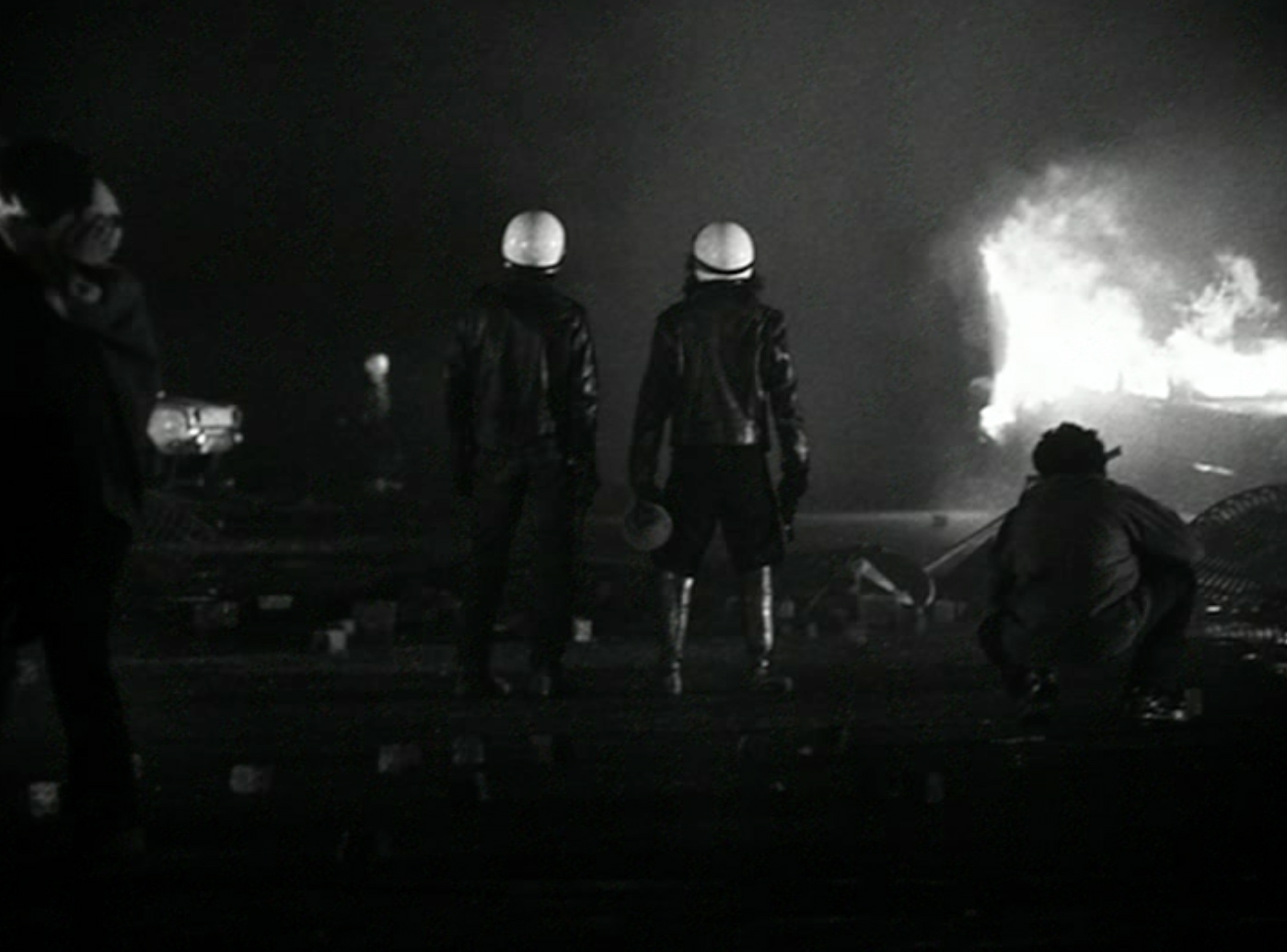 LES AMANTS RÉGULIERS
(Regular Lovers)
Philippe Garrel
France, 2004, 35mm, B&W, 3h03, French w/Eng Subs
With Louis Garrel, Clotilde Hesme
Silver Lion, Venice Festival 2005
Prix Louis Delluc (Best French Film of 2005)
Paris, May 68. During the riots, François, a young poet trying to escape his military service, meets Lilie on the barricades. After the failure of the insurrection, they begin a love affair and join a community in the residence of an idle heir, sharing his addiction to drugs. In sumptuous, charcoal-contrasted images, Garrel, as a witness of those times which have haunted his whole cinematographic work, depicts in an opium-infused atmosphere, the amorous and political drift of idealists caught up with the loss of illusions and the harshness of reality.
___________________________________________________________________
SUNDAY 22/04 — 18:30
SATURDAY 05/05 — 16:30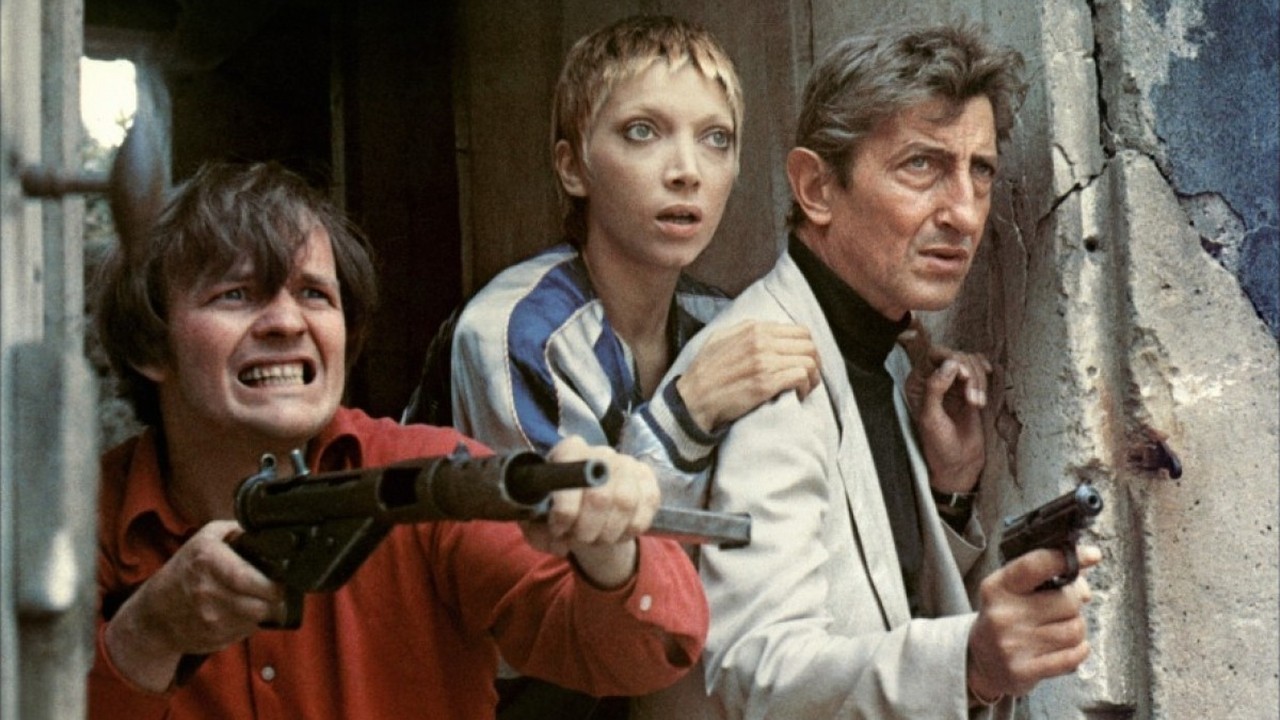 NADA
(The Nada Gang)
Claude Chabrol
France, 1974, 35mm, colour, 1h47, French w/Swedish subs.
With Maurice Garrel, Fabio Testi, Michel Duchaussoy, Lou Castel, Mariangela Melato, Viviane Romance
Nada (« Nothing »), a small anarchist group remnant of the '68 struggles and aspirations, kidnaps for ransom the American ambassador in Paris from a brothel, secreting him away in an isolated farmhouse. Authority, in reaction, will reveal its cynical agenda. A faithful adaptation of Jean-Patrick Manchette's novel, considered as the prototype of the neo-noir genre, Chabrol's departing into the arena of political terrorism and violence is a tense, sarcastic thriller with hints of poliziesco all'italiana, devoid of any emotional affect and far-removed from the naturalistic attempts of « left-wing fiction » so widespread in the mid-70s.
___________________________________________________________________
SUNDAY 6/5 — 18:15

LE FOND DE L'AIR EST ROUGE
(A Grin Without a Cat)
Chris Marker
France, 1977-2008, DCP, B&W & colour, 177 min., French w/Eng subs.
In four parts, Chris Marker's essential montage film marks a decade (1967-1977) of militancy, covering the emergence of various protest movements worldwide : from the Vietnam war to the death of Che Guevara, from May '68 to Prague Spring and from Watergate to the military coup in Chile, the film maker subjectively depicts ideological struggles, violent repression, the rise of the New Left and the hopes and failures of a political generation. A non-dogmatic, subtly-crafted and immersive film about the memory of utopias.

DÉSORDRE / DISORDER is a project of association Monoquini (Bordeaux, France)
http://monoquini.net
Curator: Bertrand Grimault
In collaboration with Jack Stevenson (Husets Biograf), Morten Tang (Danish Film Institute), Francesca Bozzano (Cinémathèque de Toulouse).
Thanks to: Jean-Denis Bonan, Jean-Pierre Bouyxou, Patrick Deval, Elina Löwensohn, Bertrand Mandico, Serge Rollin, Jean-Paul Savignac, Antoine Calafat, Anna Lodeho, Tiffany Fukuma, Jessica Heaton, Anna Medveczky, Argos Films, Cinédoc / Paris Film Coop, Ecce Films (Louise Rinaldi), les Films du Jeudi (Frédérique Ros), le Forum des Images (Pauline Husy, Magali Magne, Claudia Montes), ISKRA, Light Cone, Luna Park (Francis Lecomte), PBC Pictures, Playtime (Jim Martin), RTS / Radio Télévision Suisse (Delphine Zimmermann), le Service Audiovisuel de la CFDT (Anne Mokry), Tamasa Distribution.
With the financial support of the Danish Film Institute, l'Institut Français in Paris, la Ville de Bordeaux, and with the participation of l'Institut Français du Danemark.